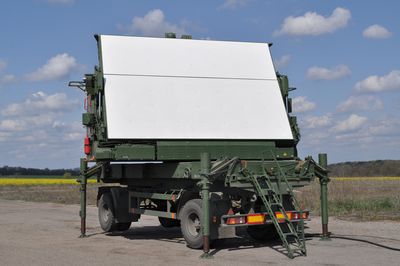 Last week, the SE SPC Iskra conducted the final stage of testing the 90K6E mobile 3D surveillance radar for the ability to identify small targets with a small radar cross-section.
According to the results of the two-day test, the 90K6E radar fully confirmed its stated tactical and technical characteristics for detecting UAVs at different altitudes and maximum range. The positive results of these tests open the undeniable prospects for export of 90K6E, in particular to  one of the Middle East countries, since the ability to identify unmanned aerial vehicles is one of the main requirements of the potential customer.
Also a high-mobility metric wave radar MR-1 and the counter-battery radar complex 1L220UK had been involved in testing. Tests on these radars were conducted under agreed program and also provided full confirmation of the claimed UAV determination characteristics.
The unmanned aerial vehicle Raybird 3 was the object of determination, under control of Skyeton specialists. It is a serial production small unmanned aerial system for different long-range missions, ISTAR solutions, and SAR applications with the following characteristics:
Flight time - more than 24 hours
Maximum altitude - 3000 m
Speed ​​(min/cruising/max) - 80/120/160 km/h
Range in direct control mode - 240 km
We thank the Skyeton Aviation Production Company for the opportunity and the specialists of SE SFTF PROGRESS for their assistance in organizing and conducting the tests.